Welcome to Flushed Away Wiki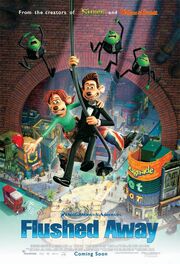 Roddy St. James
(
Hugh Jackman
) is a decidedly upper crust pet rat who makes his home in a posh Kensington flat. While his owners are away on holiday, Roddy plays around the house.
A common sewer rat named Sid (Shane Richie) comes spewing out of the sink and decides to stay, especially as England are playing against Germany in the World Cup final. Roddy plans to get rid of Sid by luring him into the "jacuzzi", which is actually the toilet.
Sid may be an ignorant slob, but being a sewer rat, he knows his plumbing; he isn't fooled at all and instead pushes Roddy in and flushes him away into the sewer.
Read more
Loading RSS data...
Ad blocker interference detected!
Wikia is a free-to-use site that makes money from advertising. We have a modified experience for viewers using ad blockers

Wikia is not accessible if you've made further modifications. Remove the custom ad blocker rule(s) and the page will load as expected.